Alex Dewing recaps the new original Netflix series.
Only a few months into 2019, Netflix released the show Russian Doll and immediately set the bar higher for every Netflix original to follow. Visually stunning, hilarious throughout, and wonderfully original, this show has a lot going for it. So, to match its eight-episode arc, here are eight reasons you should be watching the show – if you haven't already binged it. 
1. It has a fantastic story.
Nadia Vulvokov (Natasha Lyonne) is a chaotic video game designer who, on her birthday, drunkenly stumbles out into the streets of New York to look for her missing cat – only to get hit by a car and die. And just like that, she's back at her birthday party, confused but very much alive. Suddenly, death comes very easily to her – or maybe she's just tripping? Maybe it was something she drank or ate? Figuring out the cause, and solution, to her Groundhog Day-esque cycle initially seems to be at the heart of Russian Doll, but as the episodes go on it's clear that there's a lot more to be explored beyond the show's mysterious concept.
2. It's created by a stellar group of women.
Amy Poehler of Parks and Recreation fame, playwright Leslye Headland, and lead actress Natasha Lyonne make up the powerhouse team of co-creators, which should get you really excited for this show – if you weren't already. What's more is that the entire writing and directing team is female. In an interview with The TODAY Show, Lyonne said the team made this decision so that "gender could disappear in a way that would make [Russian Doll] a far more human experience and a human story, without the historical tropes of what it would be for a woman to be going through this experience."
3. It's perfect for bingeing.
At eight episodes in total, each only 25 minutes in length, Russian Doll is a perfect show to binge-watch after a long day. Despite its relatively short episodes, the show is paced to perfection, drawing at first on the mystery at hand and later descending into time-bending chaos. Plus, with every episode introducing a new piece to the puzzle right at the very end, this is one that you'll want to get through all at once.
4. That aesthetic tho!
Russian Doll is nothing if not rich in its production design. Nadia's never-ending birthday party is hosted in an old yeshiva-turned-apartment owned by Nadia's exuberant friend Maxine (Greta Lee); it's full of modern people and modern art, including the iconic, "terrifying vaginal" bathroom door. There's also Alan's (Charlie Barnett) American Psycho-esque apartment, with its straight edges, clean surfaces, and alphabetised game collections. Everything you'll see onscreen is lush with details and vivid colours. Don't even get me started on the fashion; one look at all the wonderfully diverse New Yorkers portrayed in the show, and you'll be grabbing your laptop to do some online shopping.
5. The characters are wonderfully flawed.
Lyonne has said that Nadia was, for her, a very autobiographical character, and the connection she shares with her character is evident throughout the show. Nadia is messy and hedonistic. Suffering from latent childhood trauma, she has no time for the banalities of the world, though she is deeply caring towards her friends. Meanwhile, Alan is her polar opposite: he is orderly, precise, and ascetic. Stuck repeating one of the worst evenings of his life, his forced cooperation with Nadia sets up for a lot of friction. But their development as individuals is handled with confidence and care, adding another dynamic to the show as a whole.
6. The music.
From the wistful, chill sounds of 'Cherry Blossom (Moors Remix)' by ALA.NI to the addictive energy of Harry Nilsson's 'Gotta Get Up' that, quite simply, becomes the refrain for Nadia's deaths and will not leave your head for a good long while, Russian Doll is filled with some absolute tunes. With an observant ear, you can catch classic rock songs, neo-psychedelia, experimental hip-hop, '60s French pop, and even Beethoven concertos. Quite literally, there is something for everyone. So many of the songs, too, add thematic resonance in a way that is subtle but perfectly timed. Who doesn't love adding new songs to their playlists after watching a show?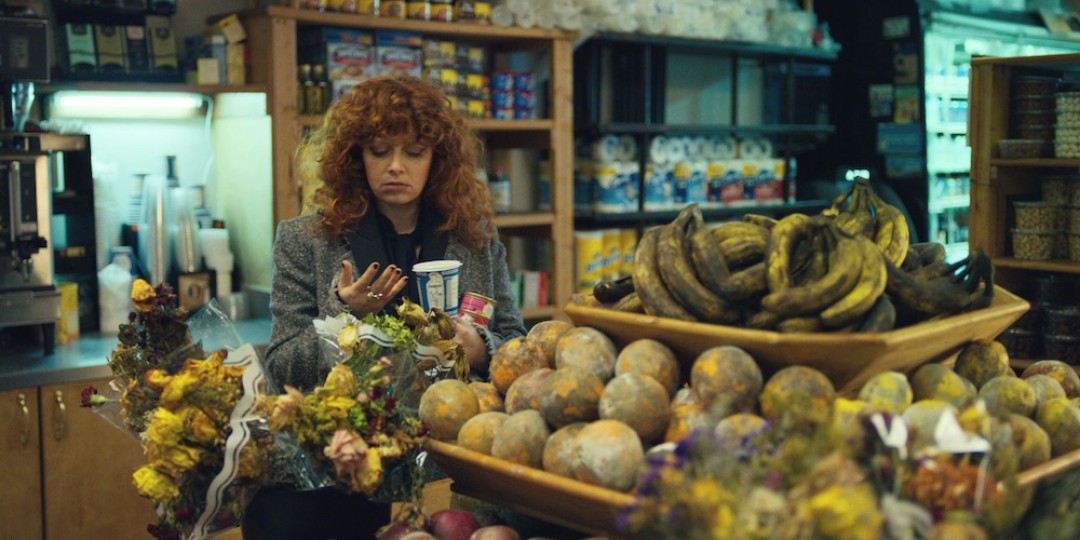 7. It'll make you laugh.
Something you learn pretty quickly about Nadia is that her humour is dry and relentless; she's always quick to make a sarcastic comment and sharp on the followup. Cynical in every sense of the word, her comedy embodies Russian Doll's morbid themes. Imbued with a delightfully dark humour (I mean, it's a show about death, tragedy, and trauma – what else would you expect?), lines of dialogue are delivered masterfully, leaving you laughing probably more than you should. The chilling mystery, as well as the tense metaphysical exploration on which the show embarks, is adeptly balanced with this humour, and the show switches and blends the two tones expertly.
8. It never goes the way you expect.
You've seen Groundhog Day and, more recently, Happy Death Day – you know how these time loop shows go. Well, think again. What's best about Russian Doll is that it is totally, wonderfully, fantastically unpredictable. So maybe give it a watch.
Russian Doll is currently available to stream on Netflix. Watch the trailer below: